Shop In-Store, Online or with a Virtual Consultant. We'll make it safe & convenient. Learn More >
STYLE SPOTLIGHT: PRINCESS
CUT DIAMOND RING
Inspired by 1960s French design, the princess cut diamond has grown in popularity now accounting for around 30% of all engagement rings. With its classic shape and faceting that reduces the visibility of flaws and inclusions, it's not hard to see why princess cut diamond rings are so in demand. Here's what you should know about the second most popular diamond shape on the market.
The second most popular shape behind round diamonds, a princess cut diamond, technically known as a "square modified brilliant", is square or rectangular when viewed from above and looks similar to an inverted pyramid when viewed from the side. Depending on the shape, a princess cut diamond is made up of either 57 or 76 facets (sides) and is often considered a more sophisticated option than a round cut diamond because of its distinctive features.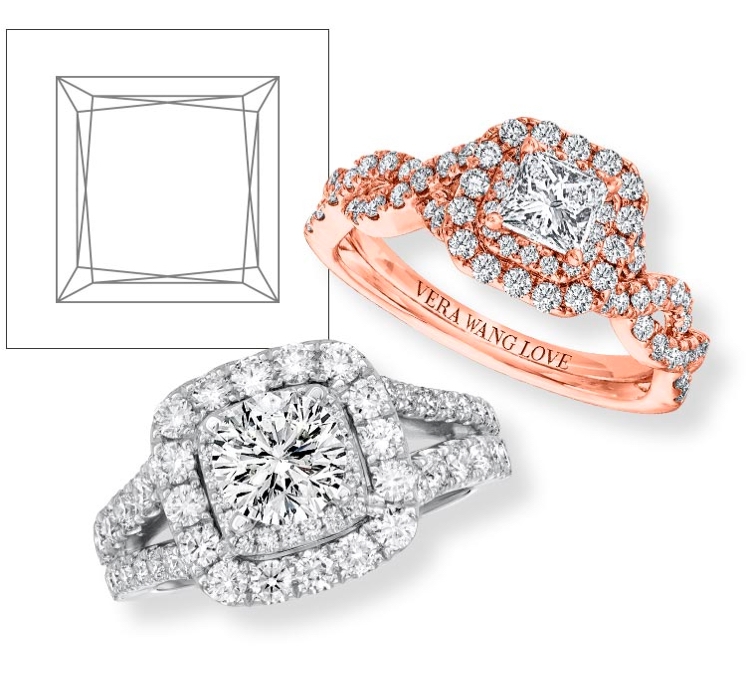 WHAT TO LOOK FOR IN A PRINCESS CUT DIAMOND RING
Princess cut diamonds can be either square or rectangular. The ideal ratio, from length to width, is 1.00 to 1.04 for a square cut and 1.07 to 1.15 for a rectangular cut. Since it can be cut similar to a round diamond but with less waste, a princess cut diamond ring that is equal in the 4 Cs will end up costing less than a round cut diamond.
A princess cut refracts more light than other common diamond cuts so pay attention to the sparkle of the stones you're considering. A professional opinion can help you choose a stone that is not only technically ideal, but one that also fits your design preferences and budget. Jared's experienced Diamontologists can help you navigate your options and settle on the princess cut diamond ring of your dreams.

PRINCESS CUT DIAMOND RING STYLES