Skip to Content
Skip to Navigation
STYLE SPOTLIGHT: EMERALD
CUT DIAMOND RING
The emerald cut diamond is one of the oldest diamond shapes with origins that trace back to the 1500s. The official term "emerald cut" was coined in the 1920s and the style became very popular with the rise of Art Deco. With its long, elegant lines and eye-catching size it's easy to see why many celebrities favor emerald cut diamond rings. Here's what you should know about this highly sought-after style. 

 
The most common shape for an emerald cut is rectangular with a length to width ratio between 1.50 and 1.75 giving them a thinner, elongated look. Known as a step cut stone, an emerald cut diamond is generally not as bright and fiery as brilliant cut stones. Since it's not a round brilliant cut, an emerald is considered a 'fancy shape' and the exact shaping and faceting can vary based on your personal preferences and the style you're going for. An emerald cut diamond engagement ring is a great option if you're looking from something unique and personal.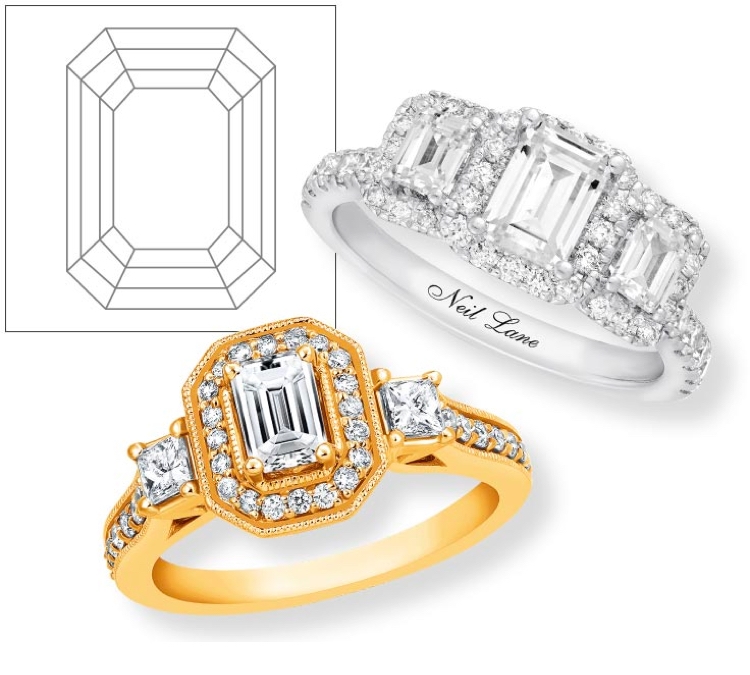 WHAT TO LOOK FOR IN AN EMERALD CUT DIAMOND RING
An emerald cut diamond has larger surfaces so it's more difficult to mask inclusions. Because of that, stones with higher clarities are best. On the other hand, the emerald cut can handle color better than other cuts so one way to save money without sacrificing on the look of your stone is to choose a lower color. The price of an emerald cut diamond is similar to a cushion cut and slightly less than a princess cut.
Many gemologists will recommend looking for a ratio between 1.45 and 1.55 but if you're leaning towards more of a square shape, 1.3 will work nicely. Jared's experienced Diamontologists can help you find the right balance between the 4 Cs to design a custom emerald cut diamond ring that will turn heads.

POPULAR EMERALD CUT DIAMOND STYLES
A solitaire style is a common option for an emerald cut diamond ring because you won't have to worry about choosing accent stones that fit properly. Some people like to include accent diamonds in the band but a plain, metal band works just as well. Halo type settings, while notoriously difficult to match with emerald cut diamonds, are possible and can give the ring a vintage appearance.
The most popular style, however, is the three stone emerald cut diamond ring. An emerald cut stone is nestled between two gems which could also be emerald cut, or a tapered baguette cut.
Emerald cut diamonds lend themselves to a vintage-inspired look which often informs the design of the ring as a whole.

EMERALD CUT INSPIRATION FROM JARED CUSTOMERS
READY TO
PROPOSE?
Jared has an extensive selection of engagement rings to suit any style.
 
SHOP ENGAGEMENT RINGS